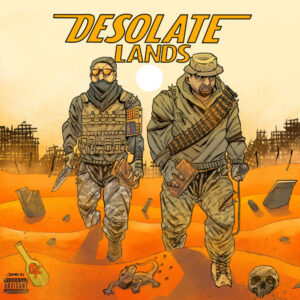 Vamos con una buena carga de rabiosas novedades, de la mano de:
Lord Jessiah x Bronze Nazareth – Audubon
Eddie Kaine – Horns please (pr. Level13)
Cypress Hill – The ride (pr. Black Milk)
Agallah Don Bishop – The fire ft Skip Lyve (pr. Agallah)
Ziel – Voy por el barrio ft Socio Alterkdos (pr. Femaz Beatz-cuts Stak)
Nems – Bing Bong (Underground Remix) ft Vado & Shoota93 (pr. Vinny Idol)
Crimeapple – Voice of god (pr. Loman)
Tornts – Oxytorch (pr. Ethan Stoutt)
Es-k – Re-centered
Phife Dawg – Only a coward (pr. 9th Wonder)
Raw Poetic x Damu The Fudgemunk – Ralph Ellison
Tribade – Kartikkeya ft Anier, Santa Salut, Elane, Ultra, Sofía Gabanna, Balkan Paradise Orchestra (pr. Josh186)
SUBSTANCE810 x Chuck Chan – Pompeii (cuts DJ Grazzhoppa)
Nelson Dialect & Mr Slipz – Oxford scholars ft Vitamin G & Verbz (cuts DJ P)
Tree Mason x Spanish Ran – Crack the safe
Curren$y x The Alchemist – Kool & The Gang
Snotty – Failed attempts (pr. Dark Arts)
Slykid & Smooth KNS – Tags 05-Apostando por el trece
DJ Caique – Até o Céu ft Contra Fluxo, Nel Sentimentum & Nairobi
Sleep Sinatra – Cthulu (pr. HaNN_11)
Rahiem Supreme – The world is on fire (pr. Axpuzzles)
Mr. Phil x Montenero – Milano da bere (cuts DJ Taglierino)
Lord Jah-Monte Ogbon – The Sneaky Link Part 2 (pr. Mike Digi)
Machacha x Farmabeats – Europa
Podcast: Reproducir en una nueva ventana | Descargar
Sin comentarios
Aún no hay comentarios.
RSS de comentarios URI para TrackBacks
Escribe un Comentario