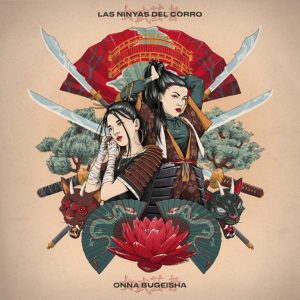 La nueva ración de ritmos, rimas y scratches, viene de mano de:
IAM – Pouvoir au peuple (pr. Akhenaton)
Saga – It's All Right
DJ Muggs – God Killa ft Rigz & Mooch
Las Ninyas del Corro – Tomoe Gozen (pr. Tensei One)
Stu Bangas – Fill The Cemetery ft Celph Titled, G Mo Skee & Lateb
Dosage Hinojosa – Apocolypse
18 Karat – Untouchable
Jedi Mind Tricks – I Am the Wooden Door (pr. Stoupe)
Soulmade – Rain
Chong Wizard – The only way ft Sonny Jim & Juga-Naut
YaH-Ra – A warm welcome (pr. Python P)
SD Kong – Ciudadano Kong (pr. Camouflage Monk)
Freddie Gibbs – Black Illuminati ft Jadakiss (pr. Bizness Boi, Arianna Reid & Fortune Beats)
Swift Guad – Persona Non Grata ft Ol Zico, Grodash, Dooz Kawa, Aka Seul Two, Euphonik, Max Paro & Polsko (pr. Pongo Monk)
J-Live – Hating
Spoda – I got this (pr. 88 Blessed Beats)
Marco Polo – Hot & Cold
Napoleon Da Legend x MicFlow – Pharo Pharo
Method Man – New Old School (pr. Adam McLeer & The Lordz Of Brooklyn)
Kaytranada – $payforhaiti ft. Mach-Hommy
Dionysos – Cali Funk ft Jimmy Antony
V9 – Sweeper (pr. Mobs Beats)
Prok – Pura (pr. Sceno)
IM'PERETIV – Under the Scope ft Benny the Butcher & Rick Hyde
Podcast: Reproducir en una nueva ventana | Descargar
Sin comentarios
Aún no hay comentarios.
RSS de comentarios URI para TrackBacks
Escribe un Comentario